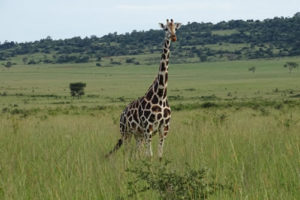 Matheniko game reserve is one of the areas in the Pearl of Africa where you can have a great time of the wilderness experience. It is located in the northeastern part of Uganda specifically in Moroto district in the Karamoja region. Matheniko game reserve has features and conditions that are closely similar to those in Somalia and Maasai-land because of its location and therefore a perfect place for tourists who are seeking calmness in the wilderness. Most parts of the reserve are covered with semi-desert grassland and others with shrub land. Notable vegetation species in the reserve include Red acacia, Bushwillows, the Red spike thorns and Harrisonia abyssinca among others.  Areas around Matheniko wildlife reserve receive an estimation of 670 milliliters of rainfall in a year and rains are more between April and May and in November.
Matheniko game reserve occupies an area of 590 sq miles and is part of the Karamoja wildlife protection zone which includes Kidepo Valley national park, Bokora and Pian Upe wildlife reserves. Matheniko wildlife reserve is stretches up to close to Mount Elgon, with rocks of about 6,000 feet. It has however been rated 5th among the most threatened wildlife conservation areas in Uganda.
Matheniko game reserve is one of the less developed, considered and less visited places in Uganda because it is remote yet with poor infrastructure. The place is mainly dominated by the Karamajong people who were cattle rustlers with the tribes in their neighborhood. These people also used to have guns which they had grabbed from army barracks after they had been abandoned by fleeing government soldiers when another government is taking over. They used these guns in cattle rustling and other fights which brought destruction and earned the region a negative perception to the world, the Karamojong were looked at a violent and hostile tribe. For a long time the region was not safe to travel there until the government put lots of effort to disarm the armed cattle rustlers and create peace in the region. Government finally became successful and there region including the reserve are now safe to visit and stay.
Matheniko game reserve is a habitat for a range of animals. They include roan antelope, eland, oribi, cape buffalo, dik dik, waterbuck, mountain reedbuck, topi and Uganda kob. The reserve is mainly visited by travelers who are on hunting safaris. Predators in the reserve include leopards, spotted hyenas, serval cats, wild cats and jackals among others. The reserve also has some primates which include vervet monkeys, patas monkeys and olive baboons. The population of these big animals is however not dense like those in national parks such as Murchison falls national park, Lake Mburo national park and Queen Elizabeth national park.
Reptiles in Matheniko game reserve are monitor lizards, water snakes, pythons, chameleon, geckos and other small lizards among others. It has a good number of birds and bird enthusiasts would surely have a good time here. Some of the birds recorded there include Abyssinian Ground Hornbill, Dusky turtle dove, Hartlaub's Turaco, Lemon dove, Red-billed oxpecker, Eastern Bronze-napped pigeon, Pygmy falcon, Egyptian Vulture, African hill warbler, Black-headed plover, Cattle egret, Grey cuckoo shrike and the ostrich.
Activities to do in Matheniko game reserve
Game drives; Game drives take place in the reserve in the morning and evening after registering with the office of Uganda Wildlife Authority in Moroto town. Animals seen during those hours include antelopes, buffaloes, lesser kudu, Topi and some cats.
Sport hunting; however much sport hunting is not well agreed up on by conservationists, the activity is popular in Matheniko Game reserve. The landscape is perfect for hunting and the animals to hunt are antelopes. This is important because it checks the population of these animals in the reserve.
Cultural experience; a visit to the communities of the Karamajong who live in this region is one of the things you ought not to miss when you travel to Matheniko wildlife reserve. The Karamajong are one of the few tribes in Uganda that have kept their culture original by not embracing modernity. They have a unique lifestyle from most of the Ugandans and are still cattle keepers. They entertain visitors with their cultural dances and songs.
Rock climbing; this region has many huge rocks and some of them are located within Matheniko wildlife reserve. You can choose to check your hiking skills at these rocks by climbing to the top which also offer spectacular views of the large beautiful reserve and the surrounding areas.
Rock paintings; there are numerous rocks around Matheniko game reserve, most of which posses paintings which are said to have been drawn by the Nilotics and Kushites about 3,500 years ago when they still inhabited these areas. The paintings reflect the kind of life they lived and animals that lived around the place.
Camping; here are perfect places to spend your night in the wilderness of Matheniko wildlife reserve. You close the day with a delicious meal while watching the beautiful sunset and magnificent hills at a distance and wake up to the bright sunrise in the wild.
A visit to the Matheniko Community Conservation and Beekeeping project; the purpose of this project is to enable the local people around the area to be able to earn from the project and provide for their families other than accessing the game reserve illegally to collect firewood and burn charcoal. Matheniko Community Conservation and Beekeeping project is done just outside the reserve around Mount Moroto areas. This destination can be inclussive during your Uganda safaris.
For more information,
Email; info@mondsafaris.com