Tourism destinations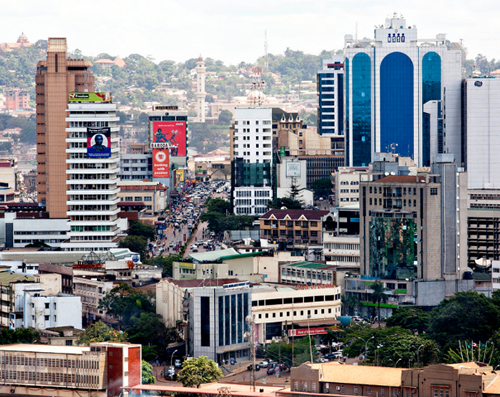 Spend comfortable holidays in Uganda, discover the best time and best places to visit.
Tourism destinations With a tapestry of landscapes, excellent wildlife watching and welcoming locals, Uganda packs a lot into one small country. it's a home to Africa's tallest mountain range (the Rwenzori ), the source of the Nile, the world's longest river and continent's largest lake and lots of other attractive drainage systems like Lake Bunyonyi.
Rafting the Nile offers a world class adrenaline adventure, but the country's most ionic experience is tracking mountain gorillas in their misty habitat. And if you view the big five, you'll see that nature diverse in different savanna parks like
Murchison falls national park
,
Queen Elizabeth national park
,
Kidepo valley national park
, Lake Mburo national park amongst others harboring beautiful wilderness nature. The most comfortable and secured accommodation centers like hotels, lodges, camping tents amongst others are also available for relaxations and
refreshments after tourism activities.
Uganda is one of the most beautiful countries in Africa. With its dense misty forests, snow-peaked mountains, glassy lakes and sprawling savannas, it's no wonder Winston Churchill dubbed this wonderful country the 'pearl of Africa'. While mountain gorillas are the allure for many visitors, there's an astounding variety of attractions for tourists.
A land that's painted in 1,001 shades of green with fantastic natural scenery
Semliki National ParkSemuliki National Park sprawls across the floor of the Semliki Valley on the remote, western side of the Rwenzori. The park is dominated by the easternmost extension of the great Ituri Forest of the Congo Basin. This is one of Africa's most ancient and bio-diverse forests; one of the few to survive the last ice age, 12-18,000 years ago. While Semuliki's species have been accumulating for over 25,000 years, the park contains evidence of even older processes. Hot springs bubble up from the depths to demonstrate the powerful subterranean forces that have been shaping the rift valley during the last 14 million years. Explore Semliki National Park
Kidepo Valley National ParkKidepo Valley National Park lies in the rugged, semi-arid valleys between Uganda's borders with South Sudan and Kenya, some 700km from Kampala. Gazetted as a national park in 1962, it has a profusion of big game and hosts over 77 mammal species as well as around 475 bird species.Explore Kidepo Valley National Park
Lake Mburo National ParkLake Mburo National Park is a compact gem, located conveniently close to the highway that connects Kampala to the parks of western Uganda. It is the smallest of Uganda's savannah national parks and underlain by ancient Precambrian metamorphic rocks which date back more than 500 million years. It is home to 350 bird species as well as zebra, impala, eland, buffalo, oribi, Defassa waterbuck, leopard, hippo, hyena, topi and reedbuck.Explore Lake Mburo National Park
For more information,
Email; info@mondsafaris.com