Abseiling adventures
Abseiling in sipi falls is one of the adrenaline filled activities done in sipi falls. Sipi falls is a series of 3 waterfalls that are fed by the waters from Mount Elgon. The falls are located at the foot of Mount Elgon. The Sipi region offers spectacular views of the lowlands of Karamoja. Sipi falls offers amazing activities like hiking, sunset and sunrise walks, coffee tours, and cycling safaris. In this article let's get into abseiling.
You won't truly have visited Sipi falls if you haven't abseiled down the waterfalls. This activity is done as you hike and explore the different waterfalls. Abseiling in Sipi falls is done on the last waterfall of the 3 waterfalls. This is the tallest waterfall at 100 meters. On your sipi falls safari, you will hike and explore the other 2 waterfalls but will have to abseil to enjoy the main waterfalls.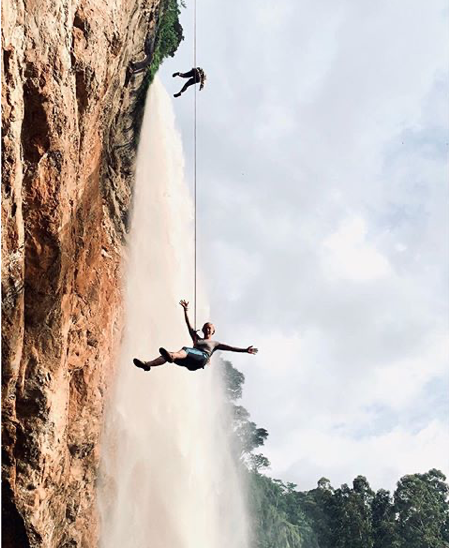 Abseiling in sipi falls-The action.
Experienced abseiling companies, fully trained in this form of art are available to offer the service. On this Uganda safari activity, you are strapped into harnesses, then tied to strong climbing ropes. After a few instructions (if you are new at this), you will slowly abseil down alongside the main waterfall.  As you descend, you can either lower yourself at your pace or use 1 rope controlled by the guides at the top.
Down into the fray.
You will repel besides the waterfall. Not into the water. You will experience the force of the water as it plummets down the 100 meter drop. This activity is exhilarating exposing you to the amazing views of the Karamoja plains. Time stands still while abseiling in sipi falls. The cool breeze, the silence and epic scene is breathtaking. At the bottom of the waterfall, you will be sprayed by the mist from the water crashing against the rocks. Guides who will have abseiled before you, will guide you on your hike back you to your lodge.
For more information,
Email; info@mondsafaris.com